Children's Entertainment
Balloon Twisting
Balloons immediately create a colorful and festive ambiance for your event or party. Each child can choose from a fun menu of balloon creations that will not disappoint. Yes, we do poodles and wiener dogs, but we also do SO much more. Also, we are now offering BALLOON DELIVERY services that can include any of the following: large custom balloon creations, balloon candy cups, balloon wine fairies for the adults, and Bag O' Balloons (a fun grab bag of assorted balloons to be dispersed into a room or handed out for an instant fun and festive environment!)
Face Painting
Have you ever wanted to be a dragon or a ninja turtle? A mermaid or a unicorn? A fairy princess or a swash-buckling pirate? Our friendly Maui Face Painters can make those dream come true. Each child (or child at heart) feels special after the transformation of face painting. For the less daring, simple cheek or arm designs are also an option.
FACE PAINTING FOR KIDS & ADULTS
Let us know when booking if you think adults will want face paint, in addition to the children.
Children's Magic
Cirque Jolie's 30-Minute Interactive Children's Magic Show is great for keeping young children delighted and entertained. It truly is magic to see how Jolie can keep a group of very young kids engaged and happy for 30 whole minutes. Parents love this time to take a break and breathe during the hustle and bustle of a children's party! And with a production of a real, live bunny and the creation of magic cookies that the children can really eat, this Children's Magic Show will become a part of their childhood memories for a lifetime!
This show is recommended for young children (2-9 years old). If you want magic for ALL ages (2-102 years old), then check out Brenton Keith & His Bag O' Tricks at magicbrent.com. If you book him in addition to any of Cirque Jolie's services, you get an amazing discount!
Stilt Walking
Stilt walking captures the imagination and inspires awe from children and adults alike.  It's breathtaking and exciting to see a 9-foot tall creature stroll into sight. Stilt walkers are very impactful and will make your event one to remember.
Cirque Jolie stilt walkers can match costumes to fit any theme!
This is something unique you can do to give your event or party that extra pizazz.
All-Age Entertainment
Cirque Jolie is not just for the kids!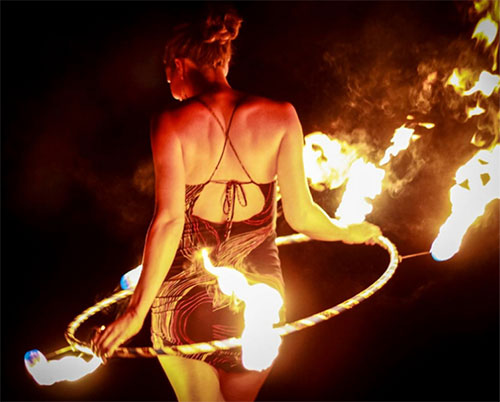 ✔ We do weddings, graduation parties, corporate events, family reunions, company holiday parties and milestone birthdays.
✔ Fire-dancers, stilt-walkers, jugglers and strolling characters can add an exciting edge to your event.
✔ Body-art, henna, and airbrush tattoos are fun and exciting for all ages and even balloons can be enjoyed by adults.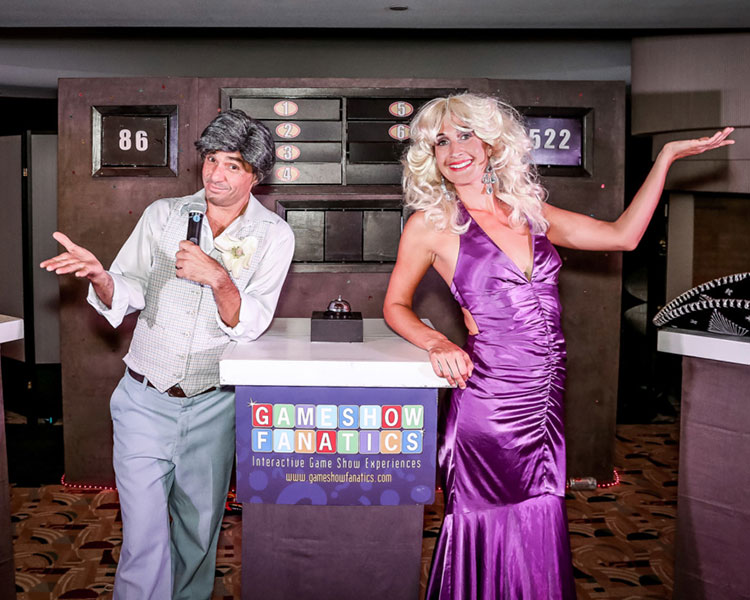 Cirque Jolie also partners with Brenton Keith & His Bag O' Tricks (Jolie's fiancé), who has been amazing and amusing Maui audiences for over 23 years with his astonishing and hilarious magic. Whether strolling magic or a one-hour, high-energy , comedy and magic show, he will keep your guests of all ages mesmerized and laughing.
If you want to do something truly unique and exciting at your next event, consider having a Game Show! Brenton and Jolie run Game Show Fanatics, a highly interactive and portable Game Show business. With a full set, costume changes, a lovely prize girl (Jolie) and a hilarious host (Brenton), this is something people will never forget!
Book Now
Balloon Décor
Cirque Jolie is now offering Balloon Decor! During Covid, Jolie had a lot of free time on her hands, so she took her already-existing balloon skills, and learned to apply them to making larger balloon art and balloon decorations. She has been thrilled with how fun and satisfying the work has been. It totally transforms any space into a party! Jolie strives to make all her balloon decor high quality and unique. Cirque Jolie offers balloon garland, balloon arches, balloon columns, numbered birthday balloon arrangements , balloon bouquets, surprise balloon deliveries and balloon centerpieces.
Book Now
Balloons of Aloha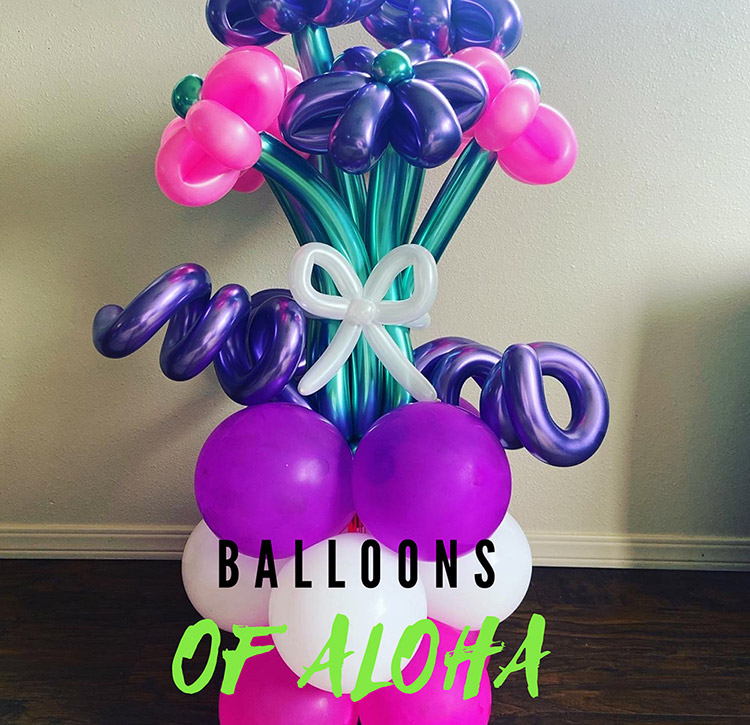 Cirque Jolie is excited to announce a new project called Balloons of Aloha. We will be donating a balloon-delivery to a non-profit or well-deserving business on the 3rd Wednesday of every month. These are crazy times, and we really wanted to do something to give back to our community and spread some joy. Please let us know if you have any suggestions for potential recipients. Also, if you would like to show some gratitude to an individual, organization or business, and want it to happen ASAP, you or your business can sponsor a Balloons of Aloha delivery. Prices start at $35 plus delivery fees and include a personalized card that recognizes you, or your business, as the sponsor.
About Cirque Jolie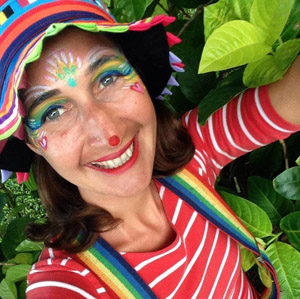 Cirque Jolie's beginnings lie in Jolie's youth. Growing up mostly on Maui, she was part of a group trained as "clowns" in 2000 by Una the Clown, and they volunteered all over the island at places like Hale Makua and Kula Hospital. Una the Clown left Maui in 2004, leaving her legacy behind in "Jolie the Clown", who continued to entertain at events and parties with her balloon-making, face-painting and magic. As the years passed and her skills expanded, Jolie the Clown evolved in to Cirque Jolie. She will still wear a clown costume if requested, but enjoys the freedom to bring a diverse and colorful array of characters to events and parties. She lives in Haiku with her partner Brenton Keith and her son Jet, and performs throughout Maui and the Hawaiian islands.
---
Join email list to hear about upcoming shows!